NATIONAL INTERN DAY
27th July is National Intern Day in America. Interns are an integral part of any workforce. And at Pressure Cooker Studios we put a huge amount of focus into our Internship Programme, on nurturing creativity in young people.

Our company Purpose is to 'Build a Platform For Talent to Flourish' (read more about that here in a thought leadership piece from our CEO James Matthes).
We want to become role models. And we also believe we continue to learn from each other, no matter how experienced we are. It is important to us to grow talent in the local industry from the ground up, and so we have an ongoing, annual Internship Programme where we take on anyone with a passion for Music or Audio, no matter their background.
In this article we highlight the success stories of two of our team members, Keith Kavayi and Colin Daniel, who started as interns in 2016 and 2018 respectively and have grown from interns to invaluable members of our team, that keep our cogs turning on a daily basis.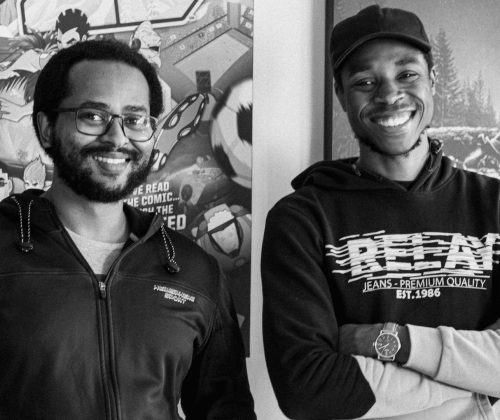 Keith is now a Senior Composer and Sound Engineer, and one of the Pressure Cooker Studios Senior Partners.
We enjoyed taking a walk down memory lane, recounting his journey of growth from fresh intern to Partner over the last 7 years.

Keith has always had a passion for Music and Audio. He recalls: "My dad was a radio presenter back in the day in the 80s. So, I guess my fondness for music had always been there, especially because we've always had a fairly extensive vinyl collection"
Keith started working at our studios in his final year at Cape Audio College. A mutual friend, Director Nosipho Dumisa, connected us, and Keith embraced the opportunity to assist our, then small, team with anything we needed.
We were a team of 3 composers when Keith came on board, with no one dedicated to Sound Design. So at the time Keith took on this role and focussed on Sound Design work: pre-prepping audio sessions and organising our sound effects libraries. 
We were still in our old premises back then (that we fondly remember as the 'roach motel'), and with only two working studios at the time, Keith often spent time working at a desk in a recording booth.
It didn't take long for him to step in and handle his own Client sessions for recording and mixing, and when we hired our next Sound Design Intern (Colin) in 2018 it made sense for Keith to head up the Sound Department. During this time he worked on the Disney XD TV series Supa Strikas, and Keith remembers a highlight of his early career, seeing his name in the credits of this internationally revered show.
While Keith was mainly focused on Sound Design, it was no secret to us that he had a huge passion for music composition too (afterall he did learn how to rap and make beats with his brother when he was younger), and we got him involved early on in pitching on jobs to keep him practicing and getting more real world experience with composition.
 Keith remembers:
"…the more I did it, the more my quality improved, and after a while the level of quality was good enough to submit in a batch to the client."
After about two years he won his first job and his role as composer kept expanding at our studios. 
Keith now mainly focuses on music composition work, and was on of the lead composers for the yet to be released short film 'The Academy' directed by award-winning Julia Jansch.
Keith has come a long way in the last 7 years and we are excited to see even more growth and innovation from him.
Here is some feedback from Producer Kerrin Kokot which is testament to the level skill and dedication you will see from Keith in both Music and Audio:

"I worked with Keith Kavayi on a 2D animated series called Temzu Town. I was the producer, and when I sent the client (a group of high level broadcast professionals) a few first pass original music composition pieces from Pressure Cooker, they all unanimously picked Keith's. I expected a bit of discussion, a few notes – the standard review response. But they had no notes whatsoever, they loved his first pass track as is. I'd never experienced anything like it before! The sound design process was similar – they just loved everything he touched. It was extraordinary."
Let's finish off his story with a final quote from Keith himself:
"But yeah, it feels like I'm in my infancy. So that's where my brain is kind of still trying to wrap itself around the idea of being a Senior Partner. I think in terms of the way we are related to each other as a studio, it's not a hierarchical thing. Because in as much as there are things that I've learned that I can pass onto the younger guys, I'm actually learning a lot from the younger guys too"
Colin is our superstar Sound Engineer, the heart of our Sound team and the most in demand engineer in the commercial side of the Studio.
We look back on his time at Pressure Cooker Studios from when he started as an Intern in 2018, in the week of his graduation ceremony from AFDA.
Colin clearly had a passion for audio from a young age, and even dabbled in some voice acting on the side while studying. 
When Colin joined our team, under the supervision of Keith, his primary responsibilities were session preparation for commercials and meticulous organisation of our audio libraries and categorising original compositions for our music catalogue. He also got involved with the Sound Design team on Supa Strikas and familiarised himself with Steinberg software in the process.
After a few years making himself indispensable in our Sound Department, Covid-19 pandemic hit and South Africa's hard lockdown meant remote working for our entire studio. This was not an easy time but it did mean that through this came the opportunity for growth. 
Colin remember's taking the lead on some mobile games during this remote working time, which helped him build experience and confidence to take on bigger jobs on his own. 
It was an easy transition, when we were back in the studio, for Colin to head up most of our commercial recording and mixing sessions with clients and agencies. Our Pressure Cooker Studios unwavering emphasis on quality and efficiency resonated deeply with Colin, and his personality resonated deeply with our clients. 
Director Riordan Allen speaks very fondly of Colin:
"I have been working with Colin as the creative final mix lead for the past couple of years on almost all of my projects. I now struggle to work with anyone else at this point, as his creative and sensitive approach to each project is a necessary part of my process now."
Among Colin's career highlights was his recent collaboration with the esteemed actor Hakeem Kae-Kazim, who Colin remembers seeing on TV as a kid.
One of Colin's favourite projects he worked on in the last few years is the Ninety One 'Change Changes' TVC. Employing experimental sound design techniques to recreate recordings from diverse technological eras challenged his creative boundaries and attested to his versatility.
Having made it to the other side from Intern to one of the most seasoned Sound Engineers and Audio Pioneers, Colin's story is another story on the success of collaboration and real-world industry experience.